Page Turners
Running Free
Page Turners Running Free
Media > Books > Non-Fiction > Education Books
Available Now
Publisher:
Cengage Learning
Status:
Available Now
English Type: Edition:
Latest Edition
Level:
Level 3
Headwords:
400
ISBN:
9781424046386
10-digit: 1424046386
Author(s):
Sue Leather, Julian Thomlinson
Description:
Charles "Chuck" Kingston is studying business so he can take over his father's company. But his father doesn't know that Chuck's real love is free running. When things start to go wrong, Chuck learns he can't run from his problems forever.
Note: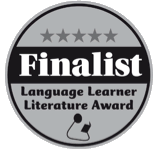 This book is a finalist for the 2012 LLL (Language Learner Literature) award, chosen by the Extensive Reading Foundation. Only 3 of countless readers in each of the 5 categories are picked as the finalists. Find out more about the award here: ERF - LLL Award.







Price:
¥ 750 / ¥ 600 ∼ 20% OFF!
People who bought this also bought this