Cambridge English Readers: Starters
Arman's Journey (book + audio CD pack)
Cambridge English Readers: Starters Arman's Journey (book + audio CD pack)
Media > Books > Non-Fiction > Education Books
Out of Print / No Stock
Publisher:
Cambridge University Press
Status:
Out of Print / No Stock
English Type:
International English
Edition:
Latest Edition
Level:
Starter
Headwords: ISBN:
9780521184960
10-digit: 0521184967
Author(s):
Description:
Award-winning original fiction for learners of English. At seven levels, from Starter to Advanced, this impressive selection of carefully graded readers offers exciting reading for every student's capabilities. Arman, a teenage refugee, makes an epic journey across Europe, often in the hands of people smugglers. He lives and works as an illegal immigrant in the UK until one day love comes into his life.
See also: Cambridge English Readers: Starters Arman's Journey (book only)
Note: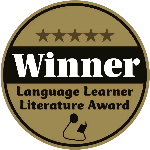 This book is a winner of the 2012 LLL (Language Learner Literature) award, chosen by the Extensive Reading Foundation. Find out more about the award here: ERF - LLL Award.





Price:
¥ 1,296 / ¥ 1,037 ∼ 20% OFF!
People who bought this also bought this