Cambridge English Readers: Starters
Arman's Journey (book + audio CD pack)
Cambridge English Readers: Starters Arman's Journey (book + audio CD pack)
Media > Books > Non-Fiction > Education Books
Out of Print / No Stock
ISBN
9780521184960 (10-digit ISBN: 0521184967)
Author(s):
Award-winning original fiction for learners of English. At seven levels, from Starter to Advanced, this impressive selection of carefully graded readers offers exciting reading for every student's capabilities. Arman, a teenage refugee, makes an epic journey across Europe, often in the hands of people smugglers. He lives and works as an illegal immigrant in the UK until one day love comes into his life.

Original stories at seven levels from starter to advanced, written specially for learners of English. With gripping plots and a range of genres to satisfy every taste, Cambridge English Readers offer high-quality original fiction that students will love! The highest quality of writing and storytelling is combined with the greatest sensitivity to the learner's language level, to ensure an enjoyable and successful learning experience, with learners eager to finish one book and start the next.

Seven levels from Starter to Advanced provide reading material for every student's ability.
A wide selection of titles, from thriller to romance, with international settings appeal to a broad range of interests.
Contemporary themes, gripping plots and believable characters inspire learners and stimulate classroom discussion.
Audio CD recordings for every title improve listening and speaking skills.
eBook and audiobook formats make every Reader instantly accessible wherever you are.
Free online resources for students and teachers at www.cambridge.org/elt/readers include vocabulary placement test, lesson plans and worksheets for every title and provide all the support you need for successful learning through reading.
See also: Cambridge English Readers: Starters Arman's Journey (book only)
Note: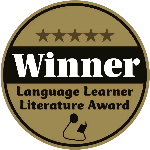 This book is a winner of the 2012 LLL (Language Learner Literature) award, chosen by the Extensive Reading Foundation. Find out more about the award here: ERF - LLL Award.





Price Before Tax:
¥1,200 ¥960 ∼ 20% OFF!
People who bought this also bought this