Page Turners | Level 3
Running Free
ISBN: 9781424046386
Running Free (Level 3)
Page Turners Running Free (Level 3)
Media > Books > Non-Fiction > Education Books
Now Available
ISBN
9781424046386 (10-digit ISBN: 1424046386)
Charles "Chuck" Kingston is studying business so he can take over his father's company. But his father doesn't know that Chuck's real love is free running. When things start to go wrong, Chuck learns he can't run from his problems forever.

Page Turners is a completely new 12-level series of original readers for learners of English. Fun and easy to read, this is a series you won't want to put down! It introduces learners of English to a variety of popular story genres, including Action, Romance, Thrillers, Crime, Mysteries, Drama, Human Interest, and more.

• 50 titles, running words cover from 3,000 to 20,000 words

• A short, non-fiction reading passage related to the main story

• A glossary which summarizes key vocabulary from the story

• MP3 Audio and Activity Worksheets available at
Charles "Chuck" Kingston is studying business so he can take over his father's company. But his father doesn't know that Chuck's real love is free running. When things start to go wrong, Chuck learns he can't run from his problems forever.
Series Description
Page Turners is a completely new 12-level series of original readers for learners of English. Fun and easy to read, this is a series you won't want to put down! It introduces learners of English to a variety of popular story genres, including Action, Romance, Thrillers, Crime, Mysteries, Drama, Human Interest, and more.
• 50 titles, running words cover from 3,000 to 20,000 words
• A short, non-fiction reading passage related to the main story
• A glossary which summarizes key vocabulary from the story
• MP3 Audio and Activity Worksheets available at
Note: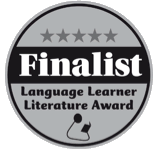 This book is a finalist for the 2012 LLL (Language Learner Literature) award, chosen by the Extensive Reading Foundation. Only 3 of countless readers in each of the 5 categories are picked as the finalists. Find out more about the award here: ERF - LLL Award.







EASY ORDER FORM
PRICES LISTED INCLUDE CONSUMPTION TAX
Price Before Tax:
¥710 ¥568 ∼ 20% OFF!