Page Turners | Level 12
Oscar's Journey
ISBN: 9781424048939
Oscar's Journey (Level 12)
Page Turners Oscar's Journey (Level 12)
Media > Books > Non-Fiction > Education Books
Now Available
ISBN
9781424048939 (10-digit ISBN: 1424048931)
Young Oscar Keen is forced to take over his father's biscuit factory, despite his dreams of becoming an artist. Then something happens that puts the business in trouble, and he finds the problems are deeper than anyone imagined. The resulting investigation reveals the truth about the business...and about Oscar himself.

Page Turners is a completely new 12-level series of original readers for learners of English. Fun and easy to read, this is a series you won't want to put down! It introduces learners of English to a variety of popular story genres, including Action, Romance, Thrillers, Crime, Mysteries, Drama, Human Interest, and more.

• 50 titles, running words cover from 3,000 to 20,000 words

• A short, non-fiction reading passage related to the main story

• A glossary which summarizes key vocabulary from the story

• MP3 Audio and Activity Worksheets available at
Young Oscar Keen is forced to take over his father's biscuit factory, despite his dreams of becoming an artist. Then something happens that puts the business in trouble, and he finds the problems are deeper than anyone imagined. The resulting investigation reveals the truth about the business...and about Oscar himself.
Series Description
Page Turners is a completely new 12-level series of original readers for learners of English. Fun and easy to read, this is a series you won't want to put down! It introduces learners of English to a variety of popular story genres, including Action, Romance, Thrillers, Crime, Mysteries, Drama, Human Interest, and more.
• 50 titles, running words cover from 3,000 to 20,000 words
• A short, non-fiction reading passage related to the main story
• A glossary which summarizes key vocabulary from the story
• MP3 Audio and Activity Worksheets available at
Note: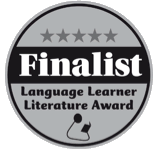 This book is a finalist for the 2014 LLL (Language Learner Literature) award, chosen by the Extensive Reading Foundation. Only 3 of countless readers in each of the 5 categories are picked as the finalists. Find out more about the award here: ERF - LLL Award. For a list of all candidates, click here.

Category:Adolescent & Adult: Upper Intermediate & Advanced





EASY ORDER FORM
PRICES LISTED INCLUDE CONSUMPTION TAX
Price Before Tax:
¥750 ¥600 ∼ 20% OFF!