Little Hands | Level 3
Teacher's Manual
ISBN: 9791189906269
Teacher's Manual (Level 3)
Little Hands Teacher's Manual (Level 3)
Media > Books > Non-Fiction > Education Books
Now Available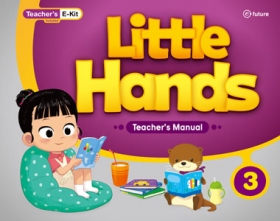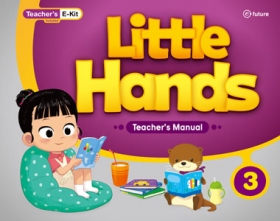 ISBN
9791189906269 (10-digit ISBN: 1189906260)
Little Hands is a fun and easy four-level course for very young EFL learners entering the English classroom for the first time.

The easy-to-use series nurtures creativity through art, music, and play while promoting communication and motor skills.

The series also features an alphabet book and phonics to build a foundation for early literacy. With Little Hands, children will enjoy learning English and become confident learners in the 21st century.

Simple vocabulary and expressions
Lovable characters and engaging stories
Catchy songs and chants
Vibrant illustrations and art projects
Age-appropriate CLIL content
Alphabet and phonics support
Fun and easy introduction to basic English
Language recycling and linking
Social and emotional skills development
Integrated Teacher's E-Kit with abundant supporting materials and activities
Little Hands is a fun and easy four-level course for very young EFL learners entering the English classroom for the first time.
The easy-to-use series nurtures creativity through art, music, and play while promoting communication and motor skills.
The series also features an alphabet book and phonics to build a foundation for early literacy. With Little Hands, children will enjoy learning English and become confident learners in the 21st century.
Series Key Features
Simple vocabulary and expressions
Lovable characters and engaging stories
Catchy songs and chants
Vibrant illustrations and art projects
Age-appropriate CLIL content
Alphabet and phonics support
Fun and easy introduction to basic English
Language recycling and linking
Social and emotional skills development
Integrated Teacher's E-Kit with abundant supporting materials and activities
EASY ORDER FORM
PRICES LISTED INCLUDE CONSUMPTION TAX
Price Before Tax:
¥3,950 ¥3,160 ∼ 20% OFF!