Step by Step TOEIC Bridge | Level 3A
Grammar Book
ISBN: 9788984464810
Grammar Book (Level 3A)
Step by Step TOEIC Bridge Grammar Book (Level 3A)
Media > Books > Non-Fiction > Education Books
Out of Print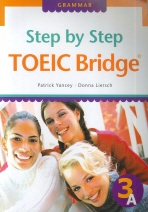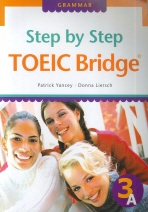 ISBN
9788984464810 (10-digit ISBN: 8984464813)
Step by Step TOEIC Bridge is a series of books designed to develop listening, grammar, and reading skills in English along with test-taking strategies relevant to the TOEIC Bridge Test. Written for beginner and intermediate level students.

Features

- Authentic language and materials

- Thematically organized for easier comprehension

- Graded tasks for better acquisition of vocabulary and structure

- Presentation and reinforcement of test taking strategies

- Mini practice tests for review and self-evaluation in each book

- Over 2100 target vocabulary words presented in the series
Step by Step TOEIC Bridge is a series of books designed to develop listening, grammar, and reading skills in English along with test-taking strategies relevant to the TOEIC Bridge Test. Written for beginner and intermediate level students.
Features
- Authentic language and materials
- Thematically organized for easier comprehension
- Graded tasks for better acquisition of vocabulary and structure
- Presentation and reinforcement of test taking strategies
- Mini practice tests for review and self-evaluation in each book
- Over 2100 target vocabulary words presented in the series
EASY ORDER FORM
PRICES LISTED INCLUDE CONSUMPTION TAX
Price Before Tax:
¥0 ¥0 ∼ 20% OFF!