Sounds Fun - Phonics for Children
1st Edition • Latest Edition
Course
Sounds Fun - Phonics for Children
Course Sounds Fun - Phonics for Children
Media > Books > Non-Fiction > Education Books
2216000
Now Available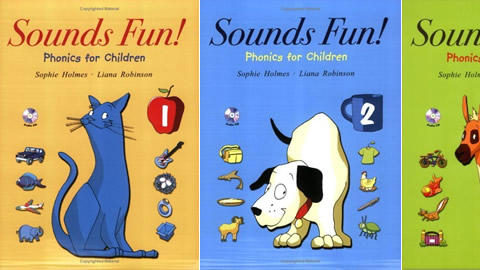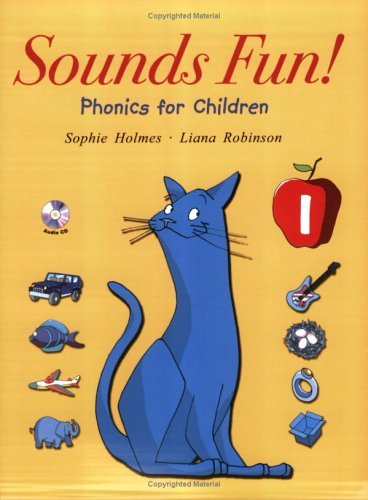 Phonics for Children!

Sounds Fun! is a basic phonics series developed for elementary EFL/ESL learners. Sounds Fun! begins with an introduction to English sounds through a systematic presentation of the alphabet. It then builds through the series by introducing learners to the additional sounds of individual letters, vowel combinations, and consonant blends. The charming full-color illustrations and wide variety of activities in each unit of Sounds Fun! engage the learners` interest while also providing hours of fun. A companion handwriting workbook is available to guide the student through the first stages of learning the alphabet and their first words. A combined step-by-step Teacher`s Guide is also available. This includes lesson plans, ideas and games for the classroom, full transcripts, answer keys and sample conversations. Especially useful when teaching groups how to read.

Introduction of letter-sound correspondence through illustrations of basic vocabulary items
Activities to build listening, speaking, and writing skills in addition to letter and word recognition
Simple and fun stories at the end of each unit to review sounds, letters, and words
Review units throughout the series featuring games and other fun activities
A phonics test at the end of each book for learners to review and consolidate what they have learned
An illustrated glossary of key vocabulary introduced in each book
Detachable flash card pages to use for games and review

•••

Sounds Fun! by Sophie Holmes and Liana Robinson. Published by Compass Publishing.

Introduction of letter-sound correspondence through illustrations of basic vocabulary items
Activities to build listening, speaking, and writing skills in addition to letter and word recognition
Simple and fun stories at the end of each unit to review sounds, letters, and words
Review units throughout the series featuring games and other fun activities
A phonics test at the end of each book for learners to review and consolidate what they have learned
An illustrated glossary of key vocabulary introduced in each book
Detachable flash card pages to use for games and review
Phonics for Children!
Sounds Fun! is a basic phonics series developed for elementary EFL/ESL learners. Sounds Fun! begins with an introduction to English sounds through a systematic presentation of the alphabet. It then builds through the series by introducing learners to the additional sounds of individual letters, vowel combinations, and consonant blends. The charming full-color illustrations and wide variety of activities in each unit of Sounds Fun! engage the learners` interest while also providing hours of fun. A companion handwriting workbook is available to guide the student through the first stages of learning the alphabet and their first words. A combined step-by-step Teacher`s Guide is also available. This includes lesson plans, ideas and games for the classroom, full transcripts, answer keys and sample conversations. Especially useful when teaching groups how to read.
Introduction of letter-sound correspondence through illustrations of basic vocabulary items
Activities to build listening, speaking, and writing skills in addition to letter and word recognition
Simple and fun stories at the end of each unit to review sounds, letters, and words
Review units throughout the series featuring games and other fun activities
A phonics test at the end of each book for learners to review and consolidate what they have learned
An illustrated glossary of key vocabulary introduced in each book
Detachable flash card pages to use for games and review
•••
Sounds Fun! by Sophie Holmes and Liana Robinson. Published by Compass Publishing.
Key Features
Introduction of letter-sound correspondence through illustrations of basic vocabulary items
Activities to build listening, speaking, and writing skills in addition to letter and word recognition
Simple and fun stories at the end of each unit to review sounds, letters, and words
Review units throughout the series featuring games and other fun activities
A phonics test at the end of each book for learners to review and consolidate what they have learned
An illustrated glossary of key vocabulary introduced in each book
Detachable flash card pages to use for games and review
Note:
with answer keys + free mp3-download
EASY ORDER FORM
PRICES LISTED INCLUDE CONSUMPTION TAX