Young Learners Classic Readers Level 5
The Legend of Sleepy Hollow (Book with MP3 CD) - LLL Award Winner 2013
ISBN: 9781599666785
The Legend of Sleepy Hollow (Book with MP3 CD) - LLL Award Winner 2013
Young Learners Classic Readers Level 5 The Legend of Sleepy Hollow (Book with MP3 CD) - LLL Award Winner 2013
Media > Books > Non-Fiction > Education Books
Now Available
ISBN
9781599666785 (10-digit ISBN: 1599666782)
Young Learners Classic Readers provide beginning English language learners enjoyable and easy reading practice of famous stories from around the world. Young English language learners will enjoy developing their vocabulary and reading fluency with the easy-to-read adaptations included in this varied collection of well-known tales for children.

Purpose
Young Learners Classic Readers provide beginning English language learners enjoyable and easy reading practice of famous stories from around the world. Young English language learners will enjoy developing their vocabulary and reading fluency with the easy-to-read adaptations included in this varied collection of well-known tales for children.
Features
* A short introduction
* A picture gallery of characters
* A story including full-color illustrations and highlighted dialog for easy recognition of spoken language
* A short playlet
* A picture dictionary
* Audio recordings
Young Learners Classic Readers provide beginning English language learners enjoyable and easy reading practice of famous stories from around the world. Young English language learners will enjoy developing their vocabulary and reading fluency with the easy-to-read adaptations included in this varied collection of well-known tales for children.

Purpose
Young Learners Classic Readers provide beginning English language learners enjoyable and easy reading practice of famous stories from around the world. Young English language learners will enjoy developing their vocabulary and reading fluency with the easy-to-read adaptations included in this varied collection of well-known tales for children.
Features
* A short introduction
* A picture gallery of characters
* A story including full-color illustrations and highlighted dialog for easy recognition of spoken language
* A short playlet
* A picture dictionary
* Audio recordings
Note: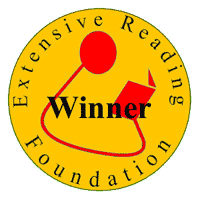 This book is a winner of the 2013 LLL (Language Learner Literature) award, chosen by the Extensive Reading Foundation. Find out more about the award here: ERF - LLL Award. For a complete list and order form of all candidates click here.








EASY ORDER FORM
PRICES LISTED INCLUDE CONSUMPTION TAX
Price Before Tax:
¥900 ¥720 ∼ 20% OFF!