Katie and TC Mystery Readers
Food Burglar Mysteries (Book)
ISBN: 9781613527313
Food Burglar Mysteries (Book)
Katie and TC Mystery Readers Food Burglar Mysteries (Book)
Media > Books > Non-Fiction > Education Books
Out of Print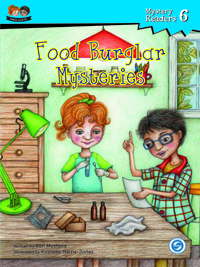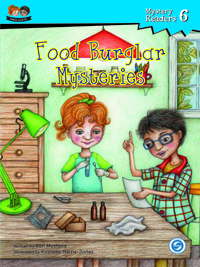 ISBN
9781613527313 (10-digit ISBN: 1613527314)
Story1: The Case of the Stolen Cupcakes
A woman's home is repeatedly broken into and burglarized. But the only thing being stolen is…cupcakes? What kind of thief steals only baked goodies? Katie and TC are surprised and you will be too, as they uncover the guilty party!
 
Story2: The Case of the Midnight Visitor
Yet another woman's home is being repeatedly broken into and
burglarized for food. But this time the culprit is totally diff erent and for a different reason! Katie and TC are shocked yet again as they find out who is doing it!

Mystery Readers is a fascinating 10-book series with two original mystery stories per book. Designed to transition learners from graded readers to authentic texts, each story includes engaging content that offers real-world knowledge to the learner. This captivating series gives young learners suspects, clues, and important information that will make them feel like they are mystery solvers.

Engaging mystery stories written for intermediate EFL learners
10-book series with two original mystery stories per book
Illustrated with original artwork showing scenes from the stories
Realistic, appropriate, and exciting situations that students will enjoy
Subject matter includes forensic science, technology, and more
Downloadable audio files
Story1: The Case of the Stolen Cupcakes
A woman's home is repeatedly broken into and burglarized. But the only thing being stolen is…cupcakes? What kind of thief steals only baked goodies? Katie and TC are surprised and you will be too, as they uncover the guilty party!  
Story2: The Case of the Midnight Visitor
Yet another woman's home is being repeatedly broken into and
burglarized for food. But this time the culprit is totally diff erent and for a different reason! Katie and TC are shocked yet again as they find out who is doing it!
Series Description
Mystery Readers is a fascinating 10-book series with two original mystery stories per book. Designed to transition learners from graded readers to authentic texts, each story includes engaging content that offers real-world knowledge to the learner. This captivating series gives young learners suspects, clues, and important information that will make them feel like they are mystery solvers.
Series Key Features
Engaging mystery stories written for intermediate EFL learners
10-book series with two original mystery stories per book
Illustrated with original artwork showing scenes from the stories
Realistic, appropriate, and exciting situations that students will enjoy
Subject matter includes forensic science, technology, and more
Downloadable audio files
EASY ORDER FORM
PRICES LISTED INCLUDE CONSUMPTION TAX
Price Before Tax:
¥0 ¥0 ∼ 20% OFF!