Katie and TC Mystery Readers
Mischief Mysteries (Book)
ISBN: 9781613527337
Mischief Mysteries (Book)
Katie and TC Mystery Readers Mischief Mysteries (Book)
Media > Books > Non-Fiction > Education Books
Out of Print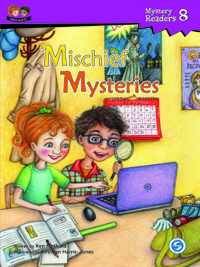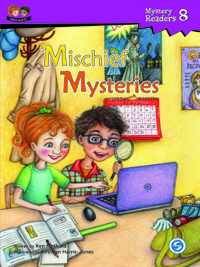 ISBN
9781613527337 (10-digit ISBN: 1613527330)
Story1: The Case of the Stolen Chickens
A thief keeps stealing a woman's chickens from her backyard. She thinks she knows who is doing it but has no evidence so she calls in Katie and TC to find out who the thief is and bring them to justice!

Story2: The Case of the Go-Kart Brakes
A high-speed go-karting accident puts a boy's life in danger. As he later finds out that his brakes were tampered with before the race, he demands to know who has committed such a treacherous act. Katie and TC use their investigative skills to uncover who put this driver's life in danger!

Mystery Readers is a fascinating 10-book series with two original mystery stories per book. Designed to transition learners from graded readers to authentic texts, each story includes engaging content that offers real-world knowledge to the learner. This captivating series gives young learners suspects, clues, and important information that will make them feel like they are mystery solvers.

Engaging mystery stories written for intermediate EFL learners
10-book series with two original mystery stories per book
Illustrated with original artwork showing scenes from the stories
Realistic, appropriate, and exciting situations that students will enjoy
Subject matter includes forensic science, technology, and more
Downloadable audio files
Story1: The Case of the Stolen Chickens
A thief keeps stealing a woman's chickens from her backyard. She thinks she knows who is doing it but has no evidence so she calls in Katie and TC to find out who the thief is and bring them to justice!
Story2: The Case of the Go-Kart Brakes
A high-speed go-karting accident puts a boy's life in danger. As he later finds out that his brakes were tampered with before the race, he demands to know who has committed such a treacherous act. Katie and TC use their investigative skills to uncover who put this driver's life in danger!
Series Description
Mystery Readers is a fascinating 10-book series with two original mystery stories per book. Designed to transition learners from graded readers to authentic texts, each story includes engaging content that offers real-world knowledge to the learner. This captivating series gives young learners suspects, clues, and important information that will make them feel like they are mystery solvers.
Series Key Features
Engaging mystery stories written for intermediate EFL learners
10-book series with two original mystery stories per book
Illustrated with original artwork showing scenes from the stories
Realistic, appropriate, and exciting situations that students will enjoy
Subject matter includes forensic science, technology, and more
Downloadable audio files
EASY ORDER FORM
PRICES LISTED INCLUDE CONSUMPTION TAX
Price Before Tax:
¥0 ¥0 ∼ 20% OFF!