Katie and TC Mystery Readers
Trickery Mysteries (Book)
ISBN: 9781613527351
Trickery Mysteries (Book)
Katie and TC Mystery Readers Trickery Mysteries (Book)
Media > Books > Non-Fiction > Education Books
Out of Print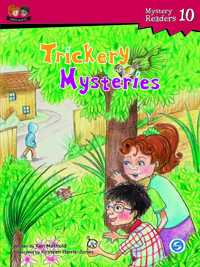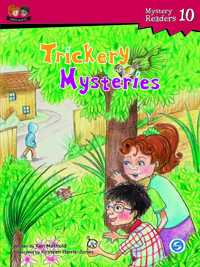 ISBN
9781613527351 (10-digit ISBN: 1613527357)
Story1: The Case of the Mysterious Cell Phone
An eerie cell phone sound can be heard behind a woman's house, but there is no phone or people in sight. What could be making the sound? Join Katie and TC as they work to get some answers on this slightly spooky case!
 
Story2: The Case of the Gold Coin
A young collector believes he has come into possession of an extremely rare and valuable gold coin. Is it real or has there been a scam? Find out as Katie and TC investigate and find out the truth!

Mystery Readers is a fascinating 10-book series with two original mystery stories per book. Designed to transition learners from graded readers to authentic texts, each story includes engaging content that offers real-world knowledge to the learner. This captivating series gives young learners suspects, clues, and important information that will make them feel like they are mystery solvers.

Engaging mystery stories written for intermediate EFL learners
10-book series with two original mystery stories per book
Illustrated with original artwork showing scenes from the stories
Realistic, appropriate, and exciting situations that students will enjoy
Subject matter includes forensic science, technology, and more
Downloadable audio files
Story1: The Case of the Mysterious Cell Phone
An eerie cell phone sound can be heard behind a woman's house, but there is no phone or people in sight. What could be making the sound? Join Katie and TC as they work to get some answers on this slightly spooky case!  
Story2: The Case of the Gold Coin
A young collector believes he has come into possession of an extremely rare and valuable gold coin. Is it real or has there been a scam? Find out as Katie and TC investigate and find out the truth!
Series Description
Mystery Readers is a fascinating 10-book series with two original mystery stories per book. Designed to transition learners from graded readers to authentic texts, each story includes engaging content that offers real-world knowledge to the learner. This captivating series gives young learners suspects, clues, and important information that will make them feel like they are mystery solvers.
Series Key Features
Engaging mystery stories written for intermediate EFL learners
10-book series with two original mystery stories per book
Illustrated with original artwork showing scenes from the stories
Realistic, appropriate, and exciting situations that students will enjoy
Subject matter includes forensic science, technology, and more
Downloadable audio files
EASY ORDER FORM
PRICES LISTED INCLUDE CONSUMPTION TAX
Price Before Tax:
¥0 ¥0 ∼ 20% OFF!