Oxford Reading Tree: TreeTops Myths and Legends
1st Edition • Latest Edition
Reader
Oxford Reading Tree: TreeTops Myths and Legends
Reader Oxford Reading Tree: TreeTops Myths and Legends
Media > Books > Non-Fiction > Education Books
293000
Now Available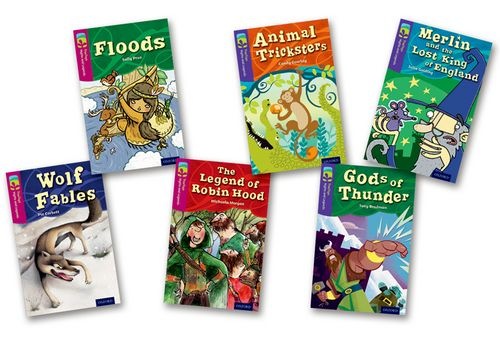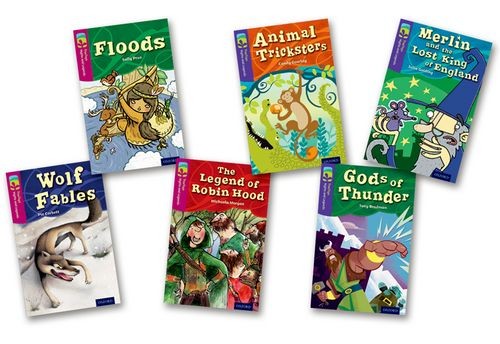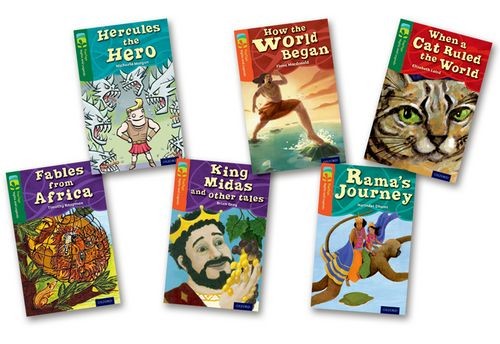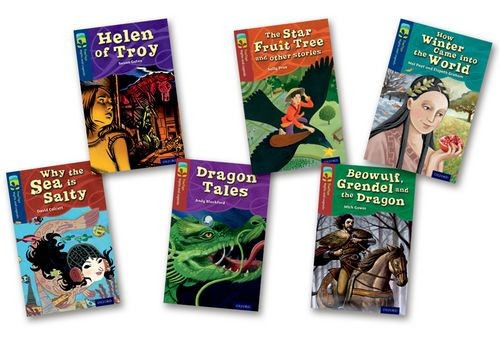 A fantastic collection of Magical Myths and Legendary Heroes to inspire all your junior readers!

These exciting new TreeTops Myths and Legends are guaranteed to appeal to all your junior readers - whatever their cultural background, gender or enthusiasms. These are the oldest and most enduring stories in the world, retold by leading contemporary children's authors to bring out all of the action, drama, humour and depth of the original stories in a way that makes them as exciting and meaningful today as ever.

The strand is comprised of 24 books, telling a total of around 65 traditional stories from around the world. All of the stories are fully illustrated with stunning, vibrant images. The stories are carefully levelled, making them accessible to the average 7-11 year old reader. A thought-provoking letter from the author explains something about the background of the stories and the process of writing or retelling them. The letter also encourages the reader to make links between stories in a collection - prompting a fascinating investigation of the similarities and differences between stories that have evolved from different cultures around the world.

Free teaching notes with each pack offer suggestions on how to develop higher order comprehension and writing skills. They also provide short introductions to many of the stories and discussion points to promote meaningful speaking and listening, and reflective reading. The stories are ideal for making strong links to other areas of curriculum.

Myths, legends and folk tales adapted especially for junior readers by top children's authors
Texts are carefully levelled to ensure that they are accessible to the average reader in the 7-11 age group
Full of thrilling themes, incredible characters and stunning artwork, these books have masses of boy and girl appeal
A letter from the author provides a relevant and meaningful insight into the writer's craft
The collections give clear reference to the genre of the story and how it typifies or extends it
Established top children's authors such as Narinder Dhami (of Bend it Like Beckham fame), Mal Peet (Carnegie Medal winner), Elizabeth Laird (short-listed for the Carnegie Medal) Geraldine McCaughrean, Susan Price, Tony Bradman, Julia Golding, and Pratima Mitchell.
Fresh new talent such as Candy Gourlay from the Philippines
Illustrators include Hannah Firkin, Emma Shaw Smith and Yannick Roberts and come from all around the world: for example Meg Hunt from the USA, Carlos Lara from Mexico, Andres Martinez Ricci from Argentina, and Hong Kong Chinese Meilo So
Stories from all over the world, including: Ancient Greece, Ancient Rome, Ancient Egypt, the Vikings, Russia, the Arctic, Vietnam, Korea, Arabia, regions in Africa, Iraq. Encourages diversity, multi-cultural experience and awareness of heritage and prompts meaningful comparison of stories
Pronunciation guide in books to help children with unfamiliar words or names
Discussion points in each book to fully exploit the speaking and listening opportunities
Effective for Group/Guided Reading and Independent reading
Comprehensive Teaching Notes for each book
A fantastic collection of Magical Myths and Legendary Heroes to inspire all your junior readers!
These exciting new TreeTops Myths and Legends are guaranteed to appeal to all your junior readers - whatever their cultural background, gender or enthusiasms. These are the oldest and most enduring stories in the world, retold by leading contemporary children's authors to bring out all of the action, drama, humour and depth of the original stories in a way that makes them as exciting and meaningful today as ever.
The strand is comprised of 24 books, telling a total of around 65 traditional stories from around the world. All of the stories are fully illustrated with stunning, vibrant images. The stories are carefully levelled, making them accessible to the average 7-11 year old reader. A thought-provoking letter from the author explains something about the background of the stories and the process of writing or retelling them. The letter also encourages the reader to make links between stories in a collection - prompting a fascinating investigation of the similarities and differences between stories that have evolved from different cultures around the world.
Free teaching notes with each pack offer suggestions on how to develop higher order comprehension and writing skills. They also provide short introductions to many of the stories and discussion points to promote meaningful speaking and listening, and reflective reading. The stories are ideal for making strong links to other areas of curriculum.
Key Features
Myths, legends and folk tales adapted especially for junior readers by top children's authors
Texts are carefully levelled to ensure that they are accessible to the average reader in the 7-11 age group
Full of thrilling themes, incredible characters and stunning artwork, these books have masses of boy and girl appeal
A letter from the author provides a relevant and meaningful insight into the writer's craft
The collections give clear reference to the genre of the story and how it typifies or extends it
Established top children's authors such as Narinder Dhami (of Bend it Like Beckham fame), Mal Peet (Carnegie Medal winner), Elizabeth Laird (short-listed for the Carnegie Medal) Geraldine McCaughrean, Susan Price, Tony Bradman, Julia Golding, and Pratima Mitchell.
Fresh new talent such as Candy Gourlay from the Philippines
Illustrators include Hannah Firkin, Emma Shaw Smith and Yannick Roberts and come from all around the world: for example Meg Hunt from the USA, Carlos Lara from Mexico, Andres Martinez Ricci from Argentina, and Hong Kong Chinese Meilo So
Stories from all over the world, including: Ancient Greece, Ancient Rome, Ancient Egypt, the Vikings, Russia, the Arctic, Vietnam, Korea, Arabia, regions in Africa, Iraq. Encourages diversity, multi-cultural experience and awareness of heritage and prompts meaningful comparison of stories
Pronunciation guide in books to help children with unfamiliar words or names
Discussion points in each book to fully exploit the speaking and listening opportunities
Effective for Group/Guided Reading and Independent reading
Comprehensive Teaching Notes for each book
EASY ORDER FORM
PRICES LISTED INCLUDE CONSUMPTION TAX