Little Match Girl
Dominoes : Second Edition Little Match Girl
Media > Books > Non-Fiction > Education Books
Expect Delays of Up to 4 Weeks
ISBN
9780194249409 (10-digit ISBN: 0194249409)
Fully dramatized audio recordings with native-speaker actors, music, and sound effects.
Integrated activities develop reading skills and increase active vocabulary.
Seven pages of grammar activities and two personalized projects in every book.
See also: Dominoes : Second Edition Little Match Girl : Multi-ROM Pack
Note: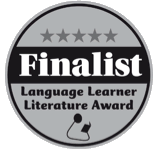 This book is a finalist for the 2013 LLL (Language Learner Literature) award, chosen by the Extensive Reading Foundation. Only 2-3 of countless readers in each of the 5 categories are picked as the finalists. Find out more about the award here: ERF - LLL Award. For a complete list and order form of all candidates click here.







Price Before Tax:
¥810 ¥648 ∼ 20% OFF!
People who bought this also bought this