Mansour And The Donkey
Classic Tales: 2nd Edition Mansour And The Donkey
Media > Books > Non-Fiction > Education Books
Now Available
ISBN
9780194238540 (10-digit ISBN: 0194238547)
Author(s):
Sue Arengo (Series Editor)
This richly illustrated series of retold fairy tales for children aged 5-12 years old will bring an extra dimension to your English teaching.

With listening, speaking, reading, writing, and drama activities, Classic Tales graded readers make it easy for you to create complete language lessons around a popular and engaging traditional tale.
Note: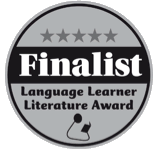 This book is a finalist for the 2012 LLL (Language Learner Literature) award, chosen by the Extensive Reading Foundation. Only 3 of countless readers in each of the 5 categories are picked as the finalists. Find out more about the award here: ERF - LLL Award.







Price Before Tax:
¥650 ¥520 ∼ 20% OFF!
People who bought this also bought this