One Day - Book + CD
Macmillan Readers: Level 5: Intermediate One Day - Book + CD
Media > Books > Non-Fiction > Education Books
Expect Delays of Up to 6 Weeks
ISBN
9780230422353 (10-digit ISBN: 0230422357)
Author(s):
David Nicholls/F.H. Cornish
'"I don't ever want to be different from this," he said. "I'd like to stay exactly as I am now. Every fifteenth of July, I want to be just like this." The two young people didn't know each other very well, but this was a night for thinking about the future.'

15th July 1988. Emma and Dexter meet for the first time on the night of their university graduation. Soon their lives will go in separate directions. But where will they be on 15th July of the following year, and the year after that? One Day is a wonderful and moving love story which takes place over the decades of the eighties, nineties and 'noughties'.



● 112 pages


● 20022 words in length




※Available with CD ¥1,260(with tax) (ISBN978-0-2304-2235-3)

Macmillan Readers provide high-quality and enjoyable texts which your students will want to read from beginning to end. Carefully-graded levels from Beginner to Upper-intermediate so your students get the right reading material for their ability.

Eight pages of additional exercises and Audio CD in selected titles. A range of new and exciting titles, including James Bond 007, and Meg Cabot's The Princess Diaries. A truly international range of simplified readers with a prestigious list of authors from around the world, including many well-loved favourites: Daphne du Maurier, Charles Dickens, Stephen King and Wilbur Smith.
See also: Macmillan Readers: Level 5: Intermediate One Day - Book only
Note: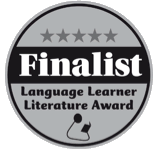 This book is a finalist for the 2013 LLL (Language Learner Literature) award, chosen by the Extensive Reading Foundation. Only 2-3 of countless readers in each of the 5 categories are picked as the finalists. Find out more about the award here: ERF - LLL Award. For a complete list and order form of all candidates click here.







Price Before Tax:
¥1,500 ¥1,200 ∼ 20% OFF!
People who bought this also bought this