Doodle Town | Level 2
Literacy Skills Pad
ISBN: 9780230491762
Literacy Skills Pad (Level 2)
Doodle Town Literacy Skills Pad (Level 2)
Media > Books > Non-Fiction > Education Books
Expect Delays of Up to 6 Weeks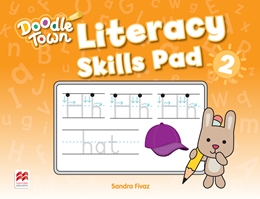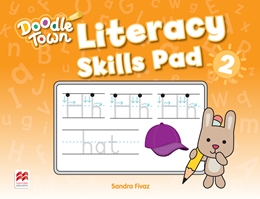 ISBN
9780230491762 (10-digit ISBN: 0230491766)
Welcome to the exciting world of Doodle Town, Macmillan's new four-level pre-school course! Its language-rich syllabus uses artwork and drawing to improve memory, experience, imagination and observation. With values at the heart, Doodle Town provides the tools for you to create an environment where children become inquisitive, happy, independent and confident learners.

Students are able to express themselves and become confident learners with this vocabulary-rich series
Artwork and drawings build lasting connections between objects and language that help students think, explore, create and learn
Literacy, language and values combine to help students on their road to early academic success
Inspirational music program to get your students actively participating, learning and remembering
Early literacy and numeracy are developed throughout the course and with the option to develop further with the Skills Pads
Teacher's Edition with clear language and unit objectives plus author tips, critical thinking ideas and lots of further support for stress-free planning
Syllabus based on US English Language Arts and Math Common Core State Standards with Cambridge English: Young Learner–style practice activities to ensure academic success
Welcome to the exciting world of Doodle Town, Macmillan's new four-level pre-school course! Its language-rich syllabus uses artwork and drawing to improve memory, experience, imagination and observation. With values at the heart, Doodle Town provides the tools for you to create an environment where children become inquisitive, happy, independent and confident learners.
Series Key Features
Students are able to express themselves and become confident learners with this vocabulary-rich series
Artwork and drawings build lasting connections between objects and language that help students think, explore, create and learn
Literacy, language and values combine to help students on their road to early academic success
Inspirational music program to get your students actively participating, learning and remembering
Early literacy and numeracy are developed throughout the course and with the option to develop further with the Skills Pads
Teacher's Edition with clear language and unit objectives plus author tips, critical thinking ideas and lots of further support for stress-free planning
Syllabus based on US English Language Arts and Math Common Core State Standards with Cambridge English: Young Learner–style practice activities to ensure academic success
EASY ORDER FORM
PRICES LISTED INCLUDE CONSUMPTION TAX
Price Before Tax:
¥2,020 ¥1,616 ∼ 20% OFF!