The New A–Z of ELT
1st Edition • Latest Edition
Course
The New A–Z of ELT
Course The New A–Z of ELT
Media > Books > Non-Fiction > Education Books
3521000
Now Available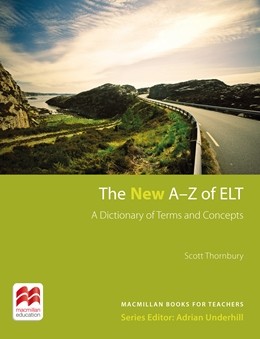 A new edition of Scott Thornbury's definitive practical guide to ELT, which teachers and teacher trainers of all levels of experience have found indispensable. Revised and restructured to take the latest developments in language learning into account, The New A-Z of ELT defines and explains essential language teaching concepts and terminology from different fields. The alphabetically-arranged entries provide concise summaries of the major issues in ELT, debates associated with each concept and their practical implications.

This new edition also comes as an eBook, with searchable content and annotation tools.

The New A-Z of ELT takes teachers from development to phase 1 to 2 of the Eaquals TD Framework.

Describes language teaching techniques and theories.
Summarises the major issues and debates associated with each concept
For trainee teachers for whom the terminology and concepts of ELT may be new
Entries are clear, concise and readable
Accessible to users with little or no specialist knowledge
For teachers who want to refresh or clarify their knowledge and to find out more about the history of teaching methodology or the various views on teaching concepts and methodology
A new edition of Scott Thornbury's definitive practical guide to ELT, which teachers and teacher trainers of all levels of experience have found indispensable. Revised and restructured to take the latest developments in language learning into account, The New A-Z of ELT defines and explains essential language teaching concepts and terminology from different fields. The alphabetically-arranged entries provide concise summaries of the major issues in ELT, debates associated with each concept and their practical implications.
This new edition also comes as an eBook, with searchable content and annotation tools.
The New A-Z of ELT takes teachers from development to phase 1 to 2 of the Eaquals TD Framework.
Key Features
Describes language teaching techniques and theories.
Summarises the major issues and debates associated with each concept
For trainee teachers for whom the terminology and concepts of ELT may be new
Entries are clear, concise and readable
Accessible to users with little or no specialist knowledge
For teachers who want to refresh or clarify their knowledge and to find out more about the history of teaching methodology or the various views on teaching concepts and methodology
EASY ORDER FORM
PRICES LISTED INCLUDE CONSUMPTION TAX