English File: Third
3rd Edition • Old Edition
Course
English File: Third Edition
Course English File: Third Edition
Media > Books > Non-Fiction > Education Books
354000
Now Available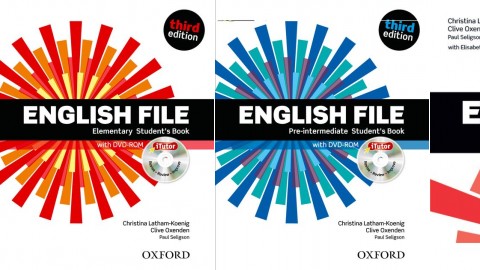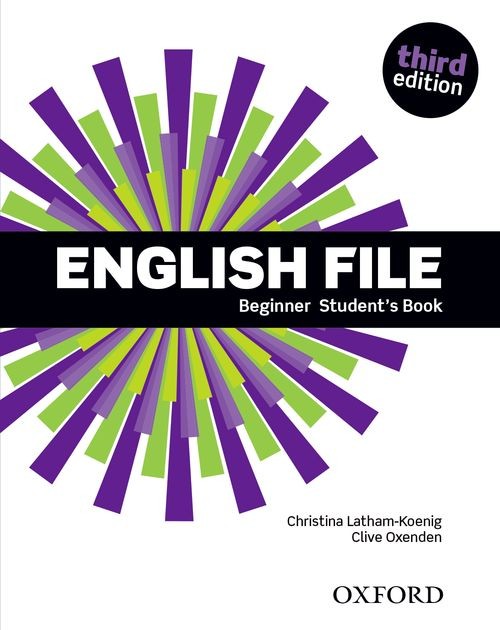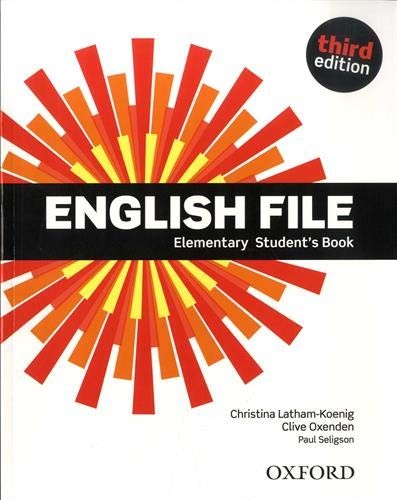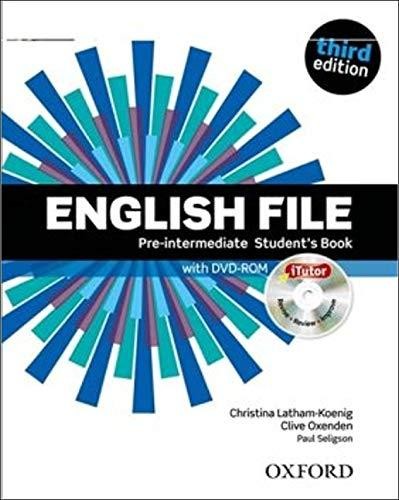 A new edition of the best-selling English File,

improved throughout with brand new digital components to use inside and outside the classroom.

English File Third Edition i

s the best way to get your students talking. The

English File

concept remains the same: fun, enjoyable lessons which get students talking through the right mix of language, motivation, and opportunity but now the content and the components have been updated and improved for students and teachers.

The English File third edition digital components help to make the most of teaching and learning opportunities inside and outside the classroom. The digital package includes: iTools (a digital classroom resource), iTutor and iChecker for students, Pronunciation App for mobiles, Online Workbook, Student's and Teacher's websites.

More Details

English File Third Edition is true to the English File formula: clearly presented language input in every unit; interesting texts and topics that motivate students; activities and exercises that practice language in a context that is relevant to a busy adult's everyday life. With new, easy-to-manage structure, fresh, contemporary topics, more listening and a brand new video filmed on location (London, New York) English File third edition supports teaching and learning better than ever. To give teachers and students a 21st century learning experience English File third edition comes with brand new digital components:

iTools for teachers: a digital teaching tool that brings the Student's book alive on the interactive whiteboard, on projectors or on screen. All your digital teaching needs on one disc: complete Student's Book with audio, video answer keys and interactive activities; complete Workbook with audio and answer keys; Teacher's Book photocopiables with answer keys; Grammar PowerPoints, Vocabulary flashcards, interactive Sounds Chart; plus highlight, zoom, spotlight and other built-in tools to make teaching even easier.

iTutor DVD-ROM accompanies the Student's Book to encourage home-study and further practice. With all Student's Book audio, video, grammar and vocabulary exercises all in one place, catch-up, revision and home-study have never been easier. Also includes mobile content downloadable to compatible phones to provide access to practice materials even on the go. See iTutor tab for further details, features and benefits.

iChecker CD-ROM, a completely new digital companion to the Workbook that allows students to test their knowledge and assess their progress. Includes all Workbook audio, self-assessment tests, instant answers and Study Link references to the relevant Grammar Bank pages of the Student's Book.

English File Pronunciation App for smartphones gives students access to pronunciation practice anytime, anywhere in a fun way. Using the much-loved English File Sounds pictures for teaching pronunciation in an easy-to-remember way, this app comes packed with interactive features such as 'touch and listen' 'record and compare' and the pronunciation game. To find out more about the App, click on the English file Pronunciation App tab

•••

English File by Clive Oxenden et al. Published by Oxford University Press.

Improved texts and listening that motivate students to talk
Four-skills syllabus with a clear focus on pronunciation
Real-world Practical English and documentary videos
New digital package for inside and outside the classroom
New Study Link learning and Teacher Link teaching resources
A new edition of the best-selling
English File,
improved throughout with brand new digital components to use inside and outside the classroom.
English File Third Edition i
s the best way to get your students talking. The
English File
concept remains the same: fun, enjoyable lessons which get students talking through the right mix of language, motivation, and opportunity but now the content and the components have been updated and improved for students and teachers.
The English File third edition digital components help to make the most of teaching and learning opportunities inside and outside the classroom. The digital package includes: iTools (a digital classroom resource), iTutor and iChecker for students, Pronunciation App for mobiles, Online Workbook, Student's and Teacher's websites.
More Details
English File Third Edition is true to the English File formula: clearly presented language input in every unit; interesting texts and topics that motivate students; activities and exercises that practice language in a context that is relevant to a busy adult's everyday life. With new, easy-to-manage structure, fresh, contemporary topics, more listening and a brand new video filmed on location (London, New York) English File third edition supports teaching and learning better than ever. To give teachers and students a 21st century learning experience English File third edition comes with brand new digital components:
iTools for teachers: a digital teaching tool that brings the Student's book alive on the interactive whiteboard, on projectors or on screen. All your digital teaching needs on one disc: complete Student's Book with audio, video answer keys and interactive activities; complete Workbook with audio and answer keys; Teacher's Book photocopiables with answer keys; Grammar PowerPoints, Vocabulary flashcards, interactive Sounds Chart; plus highlight, zoom, spotlight and other built-in tools to make teaching even easier.
iTutor DVD-ROM accompanies the Student's Book to encourage home-study and further practice. With all Student's Book audio, video, grammar and vocabulary exercises all in one place, catch-up, revision and home-study have never been easier. Also includes mobile content downloadable to compatible phones to provide access to practice materials even on the go. See iTutor tab for further details, features and benefits.
iChecker CD-ROM, a completely new digital companion to the Workbook that allows students to test their knowledge and assess their progress. Includes all Workbook audio, self-assessment tests, instant answers and Study Link references to the relevant Grammar Bank pages of the Student's Book.
English File Pronunciation App for smartphones gives students access to pronunciation practice anytime, anywhere in a fun way. Using the much-loved English File Sounds pictures for teaching pronunciation in an easy-to-remember way, this app comes packed with interactive features such as 'touch and listen' 'record and compare' and the pronunciation game. To find out more about the App, click on the English file Pronunciation App tab
•••
English File by Clive Oxenden et al. Published by Oxford University Press.
Key Features
Improved texts and listening that motivate students to talk
Four-skills syllabus with a clear focus on pronunciation
Real-world Practical English and documentary videos
New digital package for inside and outside the classroom
New Study Link learning and Teacher Link teaching resources
EASY ORDER FORM
PRICES LISTED INCLUDE CONSUMPTION TAX