Practice Tests Plus for PTE Academic
1st Edition • Latest Edition
Course
Practice Tests Plus for PTE Academic
Course Practice Tests Plus for PTE Academic
Media > Books > Non-Fiction > Education Books
4263000
Expect Delays of Up to 6 Weeks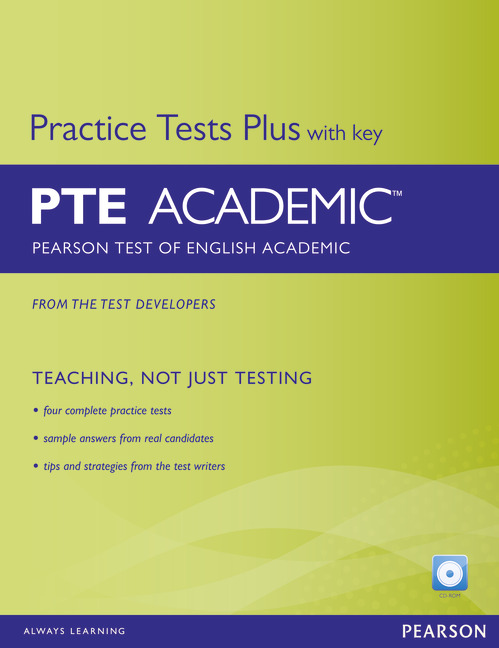 PTE Academic (Pearson Test of English Academic) is a computer-based English language test developed by Pearson that accurately measures your reading, writing, listening and speaking skills.

Practice Tests Plus offers everything you need to prepare for the test: authentic practice, comprehensive guidance and strategies for dealing with every task in the test.

The 'with key' version is for teachers and those of you preparing for the test by yourself.

four complete practice tests with authentic test questions by PTE Academic test writers
overviews of each part of the test so you know what to expect
detailed guidance, strategies and tips to teach you how to do each task type
MP3 disc with the recordings for all of the listening and speaking tasks
PTE Academic (Pearson Test of English Academic) is a computer-based English language test developed by Pearson that accurately measures your reading, writing, listening and speaking skills.
Practice Tests Plus offers everything you need to prepare for the test: authentic practice, comprehensive guidance and strategies for dealing with every task in the test.
The 'with key' version is for teachers and those of you preparing for the test by yourself.
Key Features
four complete practice tests with authentic test questions by PTE Academic test writers
overviews of each part of the test so you know what to expect
detailed guidance, strategies and tips to teach you how to do each task type
MP3 disc with the recordings for all of the listening and speaking tasks
EASY ORDER FORM
PRICES LISTED INCLUDE CONSUMPTION TAX