Boost! Vocabulary | Vocabulary - Level 2
Teacher's Edition
ISBN: 9789880025242
Teacher's Edition (Vocabulary - Level 2)
Boost! Vocabulary Teacher's Edition (Vocabulary - Level 2)
Media > Books > Non-Fiction > Education Books
Now Available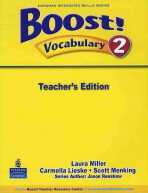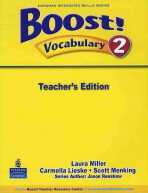 ISBN
9789880025242 (10-digit ISBN: 9880025245)
Boost! Grammar is a 4-level series for junior learners, that focuses on building grammar skills through three-stages of practice and integrated skills activities.

Age-appropriate and cross-cultural topics
In-depth presentation of grammar skills with test-correlated practice
Integrated skills practice is included at the end of each unit
Each book includes an audio CD and 48-page Practice Book
Boost! Grammar is a 4-level series for junior learners, that focuses on building grammar skills through three-stages of practice and integrated skills activities.
Series Key Features
Age-appropriate and cross-cultural topics
In-depth presentation of grammar skills with test-correlated practice
Integrated skills practice is included at the end of each unit
Each book includes an audio CD and 48-page Practice Book
EASY ORDER FORM
PRICES LISTED INCLUDE CONSUMPTION TAX
Price Before Tax:
¥1,540 ¥1,232 ∼ 20% OFF!