English Firsthand: Fourth
4th Edition • Old Edition
Course
English Firsthand: Fourth Edition
Course English Firsthand: Fourth Edition
Media > Books > Non-Fiction > Education Books
480000
Now Available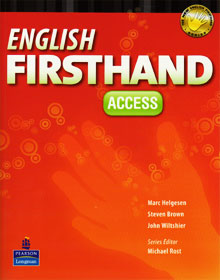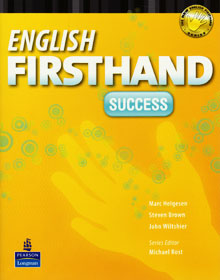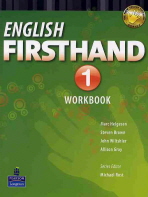 English Firsthand

is Japan's best-selling four-level communication course. Its methodology focuses on oral communication and is reinforced with positive educational pyschology, additional integrated grammar and vocabulary learning, and improved avenues for online, self-directed learning.

Preview activates vocabulary in a clear, picture-dictionary format
Drama Coach videos model conversations and move students to more engaging practice
Shadowing, an active listening technique, is integrated throughout the series
"Can Do Goals" are in line with the CEF "Can Do" statements
Real Stories based on true events and people provide personalized writing models

•••

English Firsthand by Marc Helgesen, Steven Brown & John Wiltshier. Published by Pearson.

Preview activates vocabulary in a clear, picture-dictionary format
Drama Coach videos model conversations and move students to more engaging practice
Shadowing, an active listening technique, is integrated throughout the series
"Can Do Goals" are in line with the CEF "Can Do" statements
Real Stories based on true events and people provide personalized writing models
English Firsthand
is Japan's best-selling four-level communication course. Its methodology focuses on oral communication and is reinforced with positive educational pyschology, additional integrated grammar and vocabulary learning, and improved avenues for online, self-directed learning.
Preview activates vocabulary in a clear, picture-dictionary format
Drama Coach videos model conversations and move students to more engaging practice
Shadowing, an active listening technique, is integrated throughout the series
"Can Do Goals" are in line with the CEF "Can Do" statements
Real Stories based on true events and people provide personalized writing models
•••
English Firsthand by Marc Helgesen, Steven Brown & John Wiltshier. Published by Pearson.
Key Features
Preview activates vocabulary in a clear, picture-dictionary format
Drama Coach videos model conversations and move students to more engaging practice
Shadowing, an active listening technique, is integrated throughout the series
"Can Do Goals" are in line with the CEF "Can Do" statements
Real Stories based on true events and people provide personalized writing models
EASY ORDER FORM
PRICES LISTED INCLUDE CONSUMPTION TAX