Let's Talk About It | Level 1
Book
ISBN: 9789620189517
Book (Level 1)
Let's Talk About It Book (Level 1)
Media > Books > Non-Fiction > Education Books
Now Available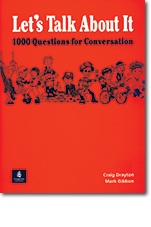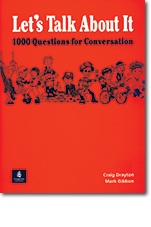 ISBN
9789620189517 (10-digit ISBN: 9620189515)
Let's Talk About It is a conversation practice book for students in Japan. The book has twenty units that introduce practical, high-interest topics and gets students sharing experiences, giving opinions, and making cross-cultural comparisons. This book contains 1,000 questions to start conversations and keep them going.

20 theme-based units that Japanese students can easily understand
Cartoon-style illustrations to stimulate conversation
Question-and-answer format to help students start speaking
Vocabulary building exercises for each topic
Teacher's notes included in the book
Let's Talk About It is a conversation practice book for students in Japan. The book has twenty units that introduce practical, high-interest topics and gets students sharing experiences, giving opinions, and making cross-cultural comparisons. This book contains 1,000 questions to start conversations and keep them going.
Series Key Features
20 theme-based units that Japanese students can easily understand
Cartoon-style illustrations to stimulate conversation
Question-and-answer format to help students start speaking
Vocabulary building exercises for each topic
Teacher's notes included in the book
Note:
Prices and details of the components of this course are listed on our Easy Order Form, below.
EASY ORDER FORM
PRICES LISTED INCLUDE CONSUMPTION TAX
Price Before Tax:
¥1,310 ¥1,048 ∼ 20% OFF!