Password 3: A Reading and Vocabulary Text | Level 3
Teacher's Manual
ISBN: 9780131408944
Teacher's Manual (Level 3)
Password 3: A Reading and Vocabulary Text Teacher's Manual (Level 3)
Media > Books > Non-Fiction > Education Books
Out of Print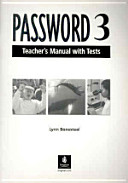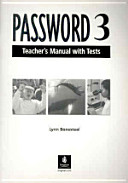 ISBN
9780131408944 (10-digit ISBN: 0131408941)
Password helps students develop reading skills and increase their active vocabulary through engaging readings about real people, places and events. Students benefit from a systematic, corpus-informed approach for learning high-frequency words, expressions and collocations.

Careful recycling of vocabulary in readings and excercises
Activities that highlight collocations and word grammar
Reading passages are high-interest and carefully graded
Password helps students develop reading skills and increase their active vocabulary through engaging readings about real people, places and events. Students benefit from a systematic, corpus-informed approach for learning high-frequency words, expressions and collocations.
Series Key Features
Careful recycling of vocabulary in readings and excercises
Activities that highlight collocations and word grammar
Reading passages are high-interest and carefully graded
EASY ORDER FORM
PRICES LISTED INCLUDE CONSUMPTION TAX
Price Before Tax:
¥1,190 ¥952 ∼ 20% OFF!