Postcards | Beginner
Teacher's Edition
ISBN: 9780132305372
Teacher's Edition (Beginner)
Postcards Teacher's Edition (Beginner)
Media > Books > Non-Fiction > Education Books
Expect Delays of Up to 4 Weeks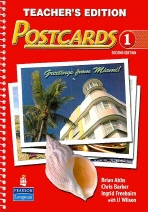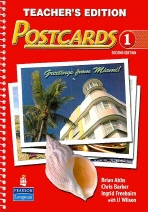 ISBN
9780132305372 (10-digit ISBN: 0132305372)
Postcards 1 is the first level of this popular American English series for teenagers. Real-life topics and characters bring language to life in this popular series.

Unit dialogs and photostories present real-life teens in compelling, everyday situations that learners can immediately identify with
Clear presentations of grammar and vocabulary with extensive practice opportunities allow students to immediately use English
Unit readings focus on issues and concerns of today's teens, while Wide Angle and Culture readings bring the larger world into the classroom to provide cross-cultural understanding
The unique Language Booster combines a carefully graded, multi-level workbook with a separate Grammar Builder so students always have plenty of practice material regardless of their skill level
Postcards 1 is the first level of this popular American English series for teenagers. Real-life topics and characters bring language to life in this popular series.
Series Key Features
Unit dialogs and photostories present real-life teens in compelling, everyday situations that learners can immediately identify with
Clear presentations of grammar and vocabulary with extensive practice opportunities allow students to immediately use English
Unit readings focus on issues and concerns of today's teens, while Wide Angle and Culture readings bring the larger world into the classroom to provide cross-cultural understanding
The unique Language Booster combines a carefully graded, multi-level workbook with a separate Grammar Builder so students always have plenty of practice material regardless of their skill level
EASY ORDER FORM
PRICES LISTED INCLUDE CONSUMPTION TAX
Price Before Tax:
¥3,780 ¥3,024 ∼ 20% OFF!