Reading Radar
1st Edition • Latest Edition
Course
Reading Radar
Course Reading Radar
Media > Books > Non-Fiction > Education Books
605000
Out of Print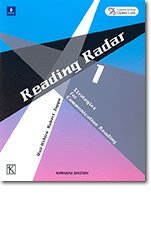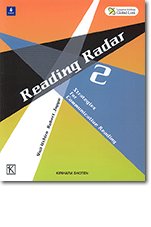 Reading Radar helps learners acquire strong reading skills through stimulating stories. Students experience using reading strategies together, so reading ability is increased naturally.

14 units feature short passages that are easy and enjoyable to read
Regular discussion practice with questions designed to initiate conversation
Vocabulary activities to increase vocabulary and usage in different contexts
English glossary included in the back for key vocabulary
Reading Radar helps learners acquire strong reading skills through stimulating stories. Students experience using reading strategies together, so reading ability is increased naturally.
Key Features
14 units feature short passages that are easy and enjoyable to read
Regular discussion practice with questions designed to initiate conversation
Vocabulary activities to increase vocabulary and usage in different contexts
English glossary included in the back for key vocabulary
Note:
Prices and details of the components of this course are listed on our Easy Order Form, below.
EASY ORDER FORM
PRICES LISTED INCLUDE CONSUMPTION TAX