Side by Side
Extra Edition • Latest Edition
Course
Side by Side Extra Edition
Course Side by Side Extra Edition
Media > Books > Non-Fiction > Education Books
614500
Now Available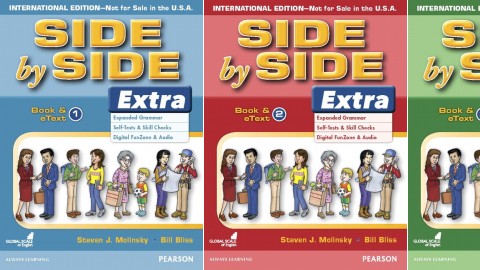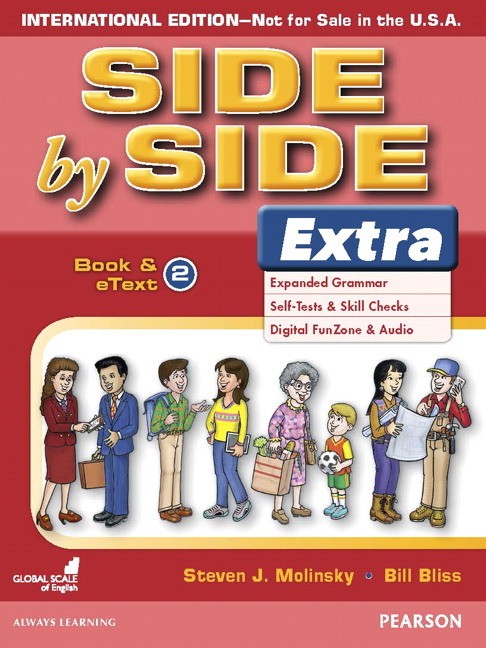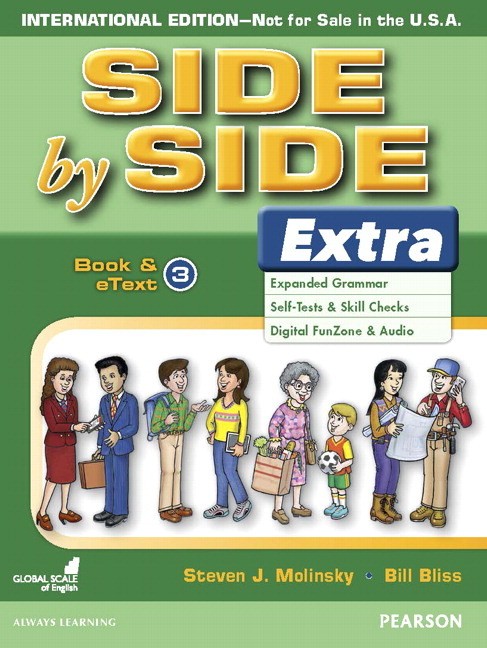 • THIS IS THE LATEST EDITION OF THE CLASSIC SIDE BY SIDE COURSE.

Side by Side is an all-skills beginner course that integrates conversation practice, reading, writing, and listening - all in a light-hearted, fun, and easy-to-use format that has been embraced by students and teachers worldwide.

Side by Side Extra includes eText. All eText activities have audio and support a conversation-centered, dynamic approach. They also support students' self-study activities.

Enhanced version of the classic Side by Side with eText
New eText – with embedded audio and FunZone – expands the course and makes it flexible and fun for students to practice on their own
The eText FunZone is a digital amusement park with attractions for every unit. Activities, games, videos, music, and animations offer students fun and motivating reinforcement of each unit's objectives
16 self-assessment pages with vocabulary and skills checklists so students can see how they're improving

•••

Side by Side Extra by Steven J. Molinsky and Bill Bliss. Published by Pearson.

Enhanced version of the classic Side by Side with eText
New eText – with embedded audio and FunZone – expands the course and makes it flexible and fun for students to practice on their own
The eText FunZone is a digital amusement park with attractions for every unit. Activities, games, videos, music, and animations offer students fun and motivating reinforcement of each unit's objectives
16 self-assessment pages with vocabulary and skills checklists so students can see how they're improving

Side by Side Extra promotes active communication between students through expanded lessons and a greater selection of activities and self-assessment. Updated components include lots of new features:

Student Book

Expanded grammar section with new Grammar Focus activities
New self-assessment pages, with vocabulary and grammar check-up tests and "can-do" functional communication reviews

Workbook

New Gazette activities with expanded vocabulary and reading comprehension practice
New "Can Do" functional communication activities
Now with digital audio

Test Package (available in 2016)

Additional items for listening, speaking and writing to supplement existing unit, mid-level, and final tests
Assessment audio
Available as PDFs and editable MS Word files

Student Book and eText

Skill-integrated units focusing on all communication skills
Variety of grammar, vocabulary, listening, pronunciation, reading, writing and communication activities
Personalization activities that get students to share about their backgrounds, interests, and opinions
Expanded grammar sections with new Grammar Focus activities and multilevel grammar worksheets
New end-of-book pages including self-assessment and skills check exercises
OPTIONAL Digital Audio CD containing standard CD tracks for Gazette activities and mp3 audio files for major lesson features including model conversations, readings, and Gazette activities (Downloadable to a computer or audio player)

•••

ALL NEW eText access included with every student book Use this digital tool to complement the program's dynamic conversational approach. The eText supports students' independent practice for self-paced learning.

Pages of the Student Book, with the complete audio program in embedded links, provide conversation, listening, pronunciation, reading, and Gazette practice.
FunZone activities, games, videos, music, and animations reinforce each unit's objectives:
Vocabulary flashcards
Skill building activities for vocabulary, grammar, and reading
Grammar Toon animations with activities
Grammar Raps, Grammar Songs, and video segments with activities (Levels 1 and 2 only)

Activity Workbook with Digital Audio CDs

Vocabulary, grammar, reading, writing, and listening activities to reinforce and supplement Student Book lessons
New Gazette activities to build reading and vocabulary skills New "Can Do" functional communication practices related to the GSE and CEFR objectives
Digital Audio CDs containing standard CD tracks and mp3 files for all Workbook listening activities, GrammarRaps, and GrammarSongs for entertaining language practice through rhythm and music
Teacher's Guide with Multilevel Activities • Unit-by-unit guide to the Student Book
Step-by-step teaching strategies for every lesson – a widely-used resource for both new and experienced teachers
Language and culture notes that teachers can use for background knowledge and to share with students
Multilevel expansion activities for students who are performing below level, at level, and above level
Scope and Sequence
Chapter Test Answer Keys
Activity Workbook Answer Key and Listening Scripts
Glossary

Assessment Programme

Additional items for listening, speaking and writing to supplement existing unit, mid-level, and final tests
Assessment audio
Available as PDFs and editable MS Word files
Communication Games • Interactive language games to reinforce grammar and vocabulary learned in each unit
All games accompanied by photocopiable activity sheets
Available for Levels 1-3
Picture Cards [OR1]
Color picture cards for vocabulary development and activities suggested in the Teacher's Guides
• THIS IS THE LATEST EDITION OF THE CLASSIC SIDE BY SIDE COURSE.
Side by Side is an all-skills beginner course that integrates conversation practice, reading, writing, and listening - all in a light-hearted, fun, and easy-to-use format that has been embraced by students and teachers worldwide.
Side by Side Extra includes eText. All eText activities have audio and support a conversation-centered, dynamic approach. They also support students' self-study activities.
Enhanced version of the classic Side by Side with eText
New eText – with embedded audio and FunZone – expands the course and makes it flexible and fun for students to practice on their own
The eText FunZone is a digital amusement park with attractions for every unit. Activities, games, videos, music, and animations offer students fun and motivating reinforcement of each unit's objectives
16 self-assessment pages with vocabulary and skills checklists so students can see how they're improving
•••
Side by Side Extra by Steven J. Molinsky and Bill Bliss. Published by Pearson.
Key Features
Enhanced version of the classic Side by Side with eText
New eText – with embedded audio and FunZone – expands the course and makes it flexible and fun for students to practice on their own
The eText FunZone is a digital amusement park with attractions for every unit. Activities, games, videos, music, and animations offer students fun and motivating reinforcement of each unit's objectives
16 self-assessment pages with vocabulary and skills checklists so students can see how they're improving
EASY ORDER FORM
PRICES LISTED INCLUDE CONSUMPTION TAX