Sharks Multi-ROM Pack with MP3
Pearson English Active Readers Level 2 Sharks Multi-ROM Pack with MP3
Media > Books > Non-Fiction > Education Books
Now Available
ISBN
9781292196022 (10-digit ISBN: 1292196025)
Author(s):
Freddy lives on a Pacific Island. There, the fishermen-and Freddy's father-can only make good money from shark finning. Will sharks have to die so Freddy can go to college? Or can he and his friend.

Penguin Active Reading is an exciting new series of graded readers, which provides reading and language learning at five levels, through full-colour, beautifully illustrated Readers. As well as enjoyable stories and texts, each book provides a range of integrated activities designed to develop reading skills and consolidate vocabulary, and offers personalised project work. Each book is supported by an interactive CD-ROM which contains additional activities and the complete audio recording.
Note: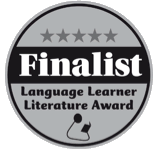 This book is a finalist for the 2015 LLL (Language Learner Literature) award, chosen by the Extensive Reading Foundation. Only 3 of countless readers in each of the 5 categories are picked as the finalists. Find out more about the award here: ERF - LLL Award. For a list of all candidates, click here.

Category: Adolescents & Adult: Elementary





Price Before Tax:
¥1,160 ¥928 ∼ 20% OFF!