Pearson English Readers Level 2 | Level 2
Marley & Me (Book)
ISBN: 9781408263761
Marley & Me (Book)
Pearson English Readers Level 2 Marley & Me (Book)
Media > Books > Non-Fiction > Education Books
Now Available
ISBN
9781408263761 (10-digit ISBN: 1408263769)
A young husband and wife buy a puppy and call him Marley. Marley gets bigger and bigger, and he is not an easy dog. He eats everything. He breaks things. He doesn't listen. But he loves John and Jenny and they love him. Is this really the story of the world's worst dog?



46 pages
10,666 words in length (excluding activities)
600 headwords
Penguin contemporary story
Activities at the end of the book

Anytime, Anyplace, Anybody

Pearson English Readers (formerly known as Penguin Readers) have a new design and new features that will help you enjoy reading in English at any level. Whether you read for pleasure or information, Pearson English Readers offer the best selection of well-known and loved stories.

New stylish covers
New audio CD packs
New word lists with example sentences
New and expanded activities in each book
New Teacher Support
A young husband and wife buy a puppy and call him Marley. Marley gets bigger and bigger, and he is not an easy dog. He eats everything. He breaks things. He doesn't listen. But he loves John and Jenny and they love him. Is this really the story of the world's worst dog?
Key Features
46 pages
10,666 words in length (excluding activities)
600 headwords
Penguin contemporary story
Activities at the end of the book
Series Description
Anytime, Anyplace, Anybody
Pearson English Readers (formerly known as Penguin Readers) have a new design and new features that will help you enjoy reading in English at any level. Whether you read for pleasure or information, Pearson English Readers offer the best selection of well-known and loved stories.
Series Key Features
New stylish covers
New audio CD packs
New word lists with example sentences
New and expanded activities in each book
New Teacher Support
Note: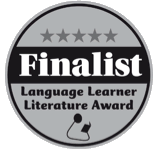 This book is a finalist for the 2013 LLL (Language Learner Literature) award, chosen by the Extensive Reading Foundation. Only 2-3 of countless readers in each of the 5 categories are picked as the finalists. Find out more about the award here: ERF - LLL Award. For a complete list and order form of all candidates click here.







EASY ORDER FORM
PRICES LISTED INCLUDE CONSUMPTION TAX
Price Before Tax:
¥770 ¥616 ∼ 20% OFF!