The Caribbean File (book only)
Cambridge English Readers: Level 1 The Caribbean File (book only)
Media > Books > Non-Fiction > Education Books
Now Available
ISBN
9781107674257 (10-digit ISBN: 1107674255)
Author(s):
Award-winning original fiction for learners of English. At seven levels, from Starter to Advanced, this impressive selection of carefully graded readers offers exciting reading for every student's capabilities. Secret agent Ian Munro is sent to the islands of the Caribbean to discover what two notorious terrorists are doing there. He tracks down the men and their beautiful female accomplice, and then follows them as they put their plan to dominate the world into action. How can he stop them? And what about the kidnapped boy and his nuclear scientist father? This paperback contains an Audio CD with complete text recordings from the book.

Original stories at seven levels from starter to advanced, written specially for learners of English. With gripping plots and a range of genres to satisfy every taste, Cambridge English Readers offer high-quality original fiction that students will love! The highest quality of writing and storytelling is combined with the greatest sensitivity to the learner's language level, to ensure an enjoyable and successful learning experience, with learners eager to finish one book and start the next.

Seven levels from Starter to Advanced provide reading material for every student's ability.
A wide selection of titles, from thriller to romance, with international settings appeal to a broad range of interests.
Contemporary themes, gripping plots and believable characters inspire learners and stimulate classroom discussion.
Audio CD recordings for every title improve listening and speaking skills.
eBook and audiobook formats make every Reader instantly accessible wherever you are.
Free online resources for students and teachers at www.cambridge.org/elt/readers include vocabulary placement test, lesson plans and worksheets for every title and provide all the support you need for successful learning through reading.
Note: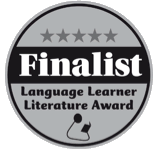 This book is a finalist for the 2014 LLL (Language Learner Literature) award, chosen by the Extensive Reading Foundation. Only 3 of countless readers in each of the 5 categories are picked as the finalists. Find out more about the award here: ERF - LLL Award. For a list of all candidates, click here.

Category:Adolescent & Adult: Elementary





Price Before Tax:
¥620 ¥496 ∼ 20% OFF!
People who bought this also bought this