Ask Alice
Cambridge Experience Readers Level 2 Ask Alice
Media > Books > Non-Fiction > Education Books
Now Available
ISBN
9781107689978 (10-digit ISBN: 110768997X)
Author(s):
The graded readers series of original fiction, adapted fiction and factbooks especially written for teenagers. Alice is an Agony Aunt on her school website. Students write to her with their problems and she answers them. But how can Alice give advice when she has so many problems of her own? This paperback is in American English. Audio recordings of the text are available on our website at: www.cambridge.org/elt/discoveryreaders/ame

Inspiring series designed to get teenagers hooked on reading!
• Lively mix of original fi ction, adapted fi ction and factbooks for 7 levels
• All titles with full audio recordings available online
• Wealth of free resources available online (Online Placement Tests,
Worksheets and Lesson Plans)
Note: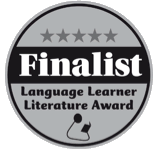 This book is a finalist for the 2012 LLL (Language Learner Literature) award, chosen by the Extensive Reading Foundation. Only 3 of countless readers in each of the 5 categories are picked as the finalists. Find out more about the award here: ERF - LLL Award.







Price Before Tax:
¥800 ¥640 ∼ 20% OFF!
People who bought this also bought this