Cambridge Experience Readers Level 2
London
ISBN: 9781107615212
London
Cambridge Experience Readers Level 2 London
Media > Books > Non-Fiction > Education Books
Expect Delays of Up to 6 Weeks
ISBN
9781107615212 (10-digit ISBN: 1107615216)
London is a special city with a fascinating past and an exciting present. Read about Shakespeare and shopping, the River Thames and red buses, the Great Fire of 1666 and the Olympics of 2012, haunted Tube stations and bloody murders. Meet Londoners past and present and find out how London started and what drives this amazing city today.

Download the complete audio recording of this title and additional classroom resources at cambridge.org/experience-readers Cambridge Experience Readers get teenagers hooked on reading.

Inspiring series designed to get teenagers hooked on reading!
• Lively mix of original fi ction, adapted fi ction and factbooks for 7 levels
• All titles with full audio recordings available online
• Wealth of free resources available online (Online Placement Tests,
Worksheets and Lesson Plans)
London is a special city with a fascinating past and an exciting present. Read about Shakespeare and shopping, the River Thames and red buses, the Great Fire of 1666 and the Olympics of 2012, haunted Tube stations and bloody murders. Meet Londoners past and present and find out how London started and what drives this amazing city today.

Download the complete audio recording of this title and additional classroom resources at cambridge.org/experience-readers Cambridge Experience Readers get teenagers hooked on reading.
Series Description
Inspiring series designed to get teenagers hooked on reading!
• Lively mix of original fi ction, adapted fi ction and factbooks for 7 levels
• All titles with full audio recordings available online
• Wealth of free resources available online (Online Placement Tests,
Worksheets and Lesson Plans)
Note: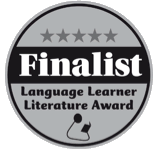 This book is a finalist for the 2012 LLL (Language Learner Literature) award, chosen by the Extensive Reading Foundation. Only 3 of countless readers in each of the 5 categories are picked as the finalists. Find out more about the award here: ERF - LLL Award.







EASY ORDER FORM
PRICES LISTED INCLUDE CONSUMPTION TAX
Price Before Tax:
¥800 ¥640 ∼ 20% OFF!