Pearson English Readers Level 4 | Level 4
Checkmate (Book)
ISBN: 9781447930600
Checkmate (Book)
Pearson English Readers Level 4 Checkmate (Book)
Media > Books > Non-Fiction > Education Books
Now Available
ISBN
9781447930600 (10-digit ISBN: 1447930606)
It is Callie Rose's sixteenth birthday and she has a bomb in her bag. Callie Rose is mixed race in a country where people are judged by their colour. Her father is dead and she hates her mother. Her Uncle Jude seems to offer her friendship and comfort - but Jude wants to punish Callie Rose's mother and use his niece in his war against society ...

Anytime, Anyplace, Anybody Pearson English Readers (formerly known as Penguin Readers) have a new design and new features that will help you enjoy reading in English at any level. Whether you read for pleasure or information, Pearson English Readers offer the best selection of well-known and loved stories.

New stylish covers
New audio CD packs
New word lists with example sentences
New and expanded activities in each book
New free Pearson Teacher Support
It is Callie Rose's sixteenth birthday and she has a bomb in her bag. Callie Rose is mixed race in a country where people are judged by their colour. Her father is dead and she hates her mother. Her Uncle Jude seems to offer her friendship and comfort - but Jude wants to punish Callie Rose's mother and use his niece in his war against society ...
Series Description
Anytime, Anyplace, Anybody Pearson English Readers (formerly known as Penguin Readers) have a new design and new features that will help you enjoy reading in English at any level. Whether you read for pleasure or information, Pearson English Readers offer the best selection of well-known and loved stories.
Series Key Features
New stylish covers
New audio CD packs
New word lists with example sentences
New and expanded activities in each book
New free Pearson Teacher Support
Note: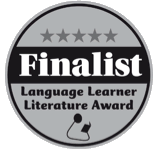 This book is a finalist for the 2015 LLL (Language Learner Literature) award, chosen by the Extensive Reading Foundation. Only 3 of countless readers in each of the 5 categories are picked as the finalists. Find out more about the award here: ERF - LLL Award. For a list of all candidates, click here.

Category: Adolescents & Adults: Upper Intermediate & Advanced





EASY ORDER FORM
PRICES LISTED INCLUDE CONSUMPTION TAX
Price Before Tax:
¥880 ¥704 ∼ 20% OFF!